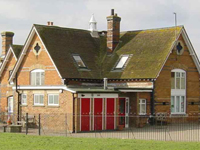 A commercial building is likely to be larger than any conventional home. Fitting heating systems to a commercial building will require a careful approach to ensure that the system is efficient and works properly. We install heating systems for small schools, libraries and village halls.

Retrofitting a commercial building to utilise a wood burning or multi-fuel heating will over the long term ensure lower heating bills, less fuel price fluctuation and a lower carbon footprint. As with all solid fuel options the principle downside is storage of the fuel.

Not only are many solid fuels carbon neutral, but Britain is fairly self-sufficient in firewood, meaning that transport costs and emissions are far less than for many fossil fuels.

This information should be used as a guide, each case is individual so please contact us at Stove Shop for more specialist information on central heating systems for your commercial property.