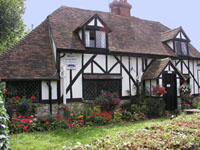 Central heating installation specialists Stove Shop provide advice on choosing a central heating system for a cottage.
When you're heating a Cottage your main consideration is its size and the number and layout of the rooms you want to heat. A traditional heating solution for cottages and larger buildings you may wish to consider is an Aga or Rayburn heating system or another multi-fuel stove with a back boiler, providing you with both heat and hot running water. Cottages in the country have the advantage of easy to source fuel for wood-burning heating systems, making them more cost-efficient than gas.
Another factor is that it is possible that your cottage may not be connected to the gas main, so you would be faced with a choice between bottled gas, oil or solid fuel. Wood from properly managed sources are considered carbon neutral as the carbon released in burning is no greater than if the tree were simply to rot.
If you are renovating a cottage, it may be worth considering what options you have. With a lot of work going on anyway it would be the perfect time to install a heating system. Traditional cottages are usually of quite sturdy construction, making them naturally insulated. This means a smaller heat rating per volume system will suffice.
Holiday cottages which may only be inhabited for a couple of weeks each winter are ideal candidates for solid fuel stoves / cookers. With no need for mains gas or regular deliveries of oil or bottled gas a stock of firewood will happily sit for a couple of years and properly sited the stove will heat the whole cottage.
Installing a system of radiators in a cottage can be expensive and an underfloor system even more so, if not a practical impossibility. However a good stove can heat an entire cottage under the right circumstances.