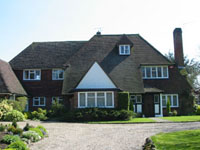 Cornwall heating engineers Stove Shop provide advice on choosing a central heating system for a detached house.
Many detached houses have an existing central heating system, it is quite a simple operation to add a stove and back-boiler into this system to create a linked system. Your existing heating system (on a oil / gas boiler) is connected to a back-boiler on a wood burning or multi fuel stove allowing heat from the stove to be spread throughout the house via your radiators.
This reduces the demands on your gas / oil boiler and means you aren't required to have your stove burning all summer to get hot running water. This works especially well with solar panels, allowing hot water from the sun throughout the summer and the stove during the winter and the gas / oil boiler as back up.
Obviously if there is no existing series of radiators installing them will be a lot of work, not to mention expensive. If you just want the heat from the stove or the advantages of a wood-burning oven you can still reduce your gas bills as you can reduce your need for heating throughout the areas warmed by the stove.
For a large detached house you need to consider a stove of at lease 15 kw.
Contact us at Stove Shop, Cornwall for expert advice on getting the right stove, that is suited most suitably to your home.