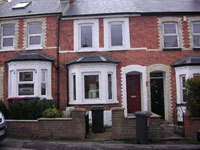 Central Heating solutions for a terraced house.

Heating for a terraced house is often rather easier then heating a other forms of housing as you don't have to worry about insulating two out of four of your walls and many terrace houses in the UK were built during the reign of Victoria and typically have very sturdy construction.
If you are thinking of fitting a wood burning stove or an insert in a terraced house you may be lucky enough to have an existing chimney.

You will need to ensure that it is in good working order and that its walls are thick enough. Many terraced house will still have their original fireplaces and quite a few of these are still being used. A modern wood burning or multi-fuel stove is likely to be at least 3 times as efficient as an open fire.

Contact us at Stove Shop for more information on the central heating solutions that are available o you and best suited to your individual needs.